Peyote Canyon - Liquid Bloom & Porangui
For Desert Trax's next release, Liquid Bloom team up with Brazilian soundsmith Porangui for a trip to Peyote Canyon. There's five remixes on offer here which accompany the original mix. It continues the Liquid Bloom story of healing and music witho... [Read More]


More Reviews:
ReGen: Deep Ambient Remixes
Breath, Re-Imagined Vol.2
Breath
[quote : unquote]

..It was hell for about a year and a half until the panic attacks dissipated. I didn't even tell my girlfriend for six months, because I was so convinced I was going mental and I didn't want to share that with people, in case they put me in a loony bin,
Progressive superstar Sasha confesses to having had panic attacks during DJ sets (Ministry Mag)
LINK TO US
If you would like to link to us from your website you can find suitable icons here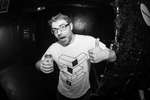 Written by Jessica Alici (18th May, 2020)

Latex Zebra has been a lively legend of the London Underground Dance Music scene for as long as we can remember! Most of us know him in some if not all his various guises, be that as a DJ, a Club Promoter, , linchpin of the HF Xmas Party, Label A&R, dare we say oldskool HF troublemaker, a friend, or as an accomplished producer in his own right. Recently Dan seems to have upped his production output and we're seeing fresh releases left, right and centre! We decided now was the perfect time to catch up with him and see what's what, ahead of his intoxicating mammoth release on Onhcet Republik on the 8th June 2020! [FULL STORY]
Other Recent Features: [More Features]
Luke Thomas talks us through the twists and twines of his longstanding career in the music industry!
Talking Hardcore, Depeche Mode & Jimmy Sommerville (amongst other things) with Techno producer Chris Coles!
Phutek talks the Rave Scene, Carl Cox, Marriage Proposals and the reincarnation of 'Reincarnations'!
NEM3SI$ from Techno Label Onhcet Republik talks about ethos, the scene & gives a heads up on a very exciting remix of a renowned classic anthem!
Exploring SUN! Ahead of her debut album release on Iono-Music!


CHAT FORUMS
Most recent topics - to see all the forums click here - to see today's active threads click here