Features

Tom Psylicious aka EarthAlien takes 50 Spins Around the Sun: Raising Awareness Through the Power of Music
The Breakthrough interview with DM-Theory
An interview with SOME1, a new alias of Psy-trance artist extraordinaire Mindwave
One Function talks to us about his biggest loves and his new album release 'Harmony'
Lyktum talks Consciousness, Call of Duty & Covid-19 and introduces us to his new album Mission 5D
Luke Thomas talks us through the twists and twines of his longstanding career in the music industry!
Talking Hardcore, Depeche Mode & Jimmy Sommerville (amongst other things) with Techno producer Chris Coles!
A candid chat with the illustrious Latex Zebra, ahead of his debut on Onhcet Republik!
Phutek talks the Rave Scene, Carl Cox, Marriage Proposals and the reincarnation of 'Reincarnations'!
NEM3SI$ from Techno Label Onhcet Republik talks about ethos, the scene & gives a heads up on a very exciting remix of a renowned classic anthem!
Exploring SUN! Ahead of her debut album release on Iono-Music!
Proxius - Lust In Space
Globetrotters Mind and Matter touch bass - ahead of their upcoming album release - 'Fragile Nature' - The Remixes - out 03/02/20 on Iono-Music!
Is This Your First Record? Khromata gets ready to make her UK debut at Tribal Village
Pixie Nature: from Brazil to Bristol with DM-Theory
Delving deeper into the energising, empowering and invigorating spirit of Shakti!
Mechanimal's Digital Nature album preview at London's Psymera Summer Boat Party
A chinwag with Psy-Sisters Competition Winner - Future Species - ahead of her debut release!
Tron talks festivals, flip flips and mezcal ahead of Tribal Village
Warming up for Tribal Village with Free-Spirit Records' Merlin's Apprentice
Celebrating 10 Years of Furthur Progressions Records with Hamish and Bedders at PRISM
Psychedelic Sister CORAL talks about how she found her trance dance pants!
Winston A Young aka MC K :: Remembering a Clubland Legend
Up close and personal with Rena Psibindi as she talks DJing, Psy-Sisters Record label launch and her new band - Psychic Misfire!
Cosmic Tone talks 'Resources' and divulges his colourful weird psyche!
Talking with Ital's 'Voice of Nature'
Fishing for Cats with Neutrino ahead of the launch of Progression Sessions
Ivan Pereira (Yestermorrow/Atomizers/Techyon/Boundless) and his Never Ending Quest!
Psychedelic Pan talks gatecrashing parties, weird decor & Goa Creamsicles!
Exploring the extra-terrestrial waves in the super sonic mind of Mindwave!
Logic vs Antiworld: let the games commence! Interview with Dave and Enrico

Reported by Shaf De Bass / Submitted 12-04-06 21:10

Many DJs talk about "educating the crowd", "experimenting" and being "daring" with the music styles they play. This may be possible in some other musical genres, but there's one thing for sure: the techno, psy trance and hard house/dance clubbers know almost exactly what they want to hear and if they don't get what they want, they go somewhere they can find it.

This makes promoting events extremely difficult, as the promoters need to keep their ears constantly to the ground and stay focused on what is going down on their dance floors. The scene is constantly evolving and has been described by some to be "run by the clubbers rather than by the DJs", which is undeniably true to some extent.

Logic and Antiworld are two promotions that were born and inspired in the late 1990s when the Fridge was THE place to be for trance partying. Both parties are extremely successful in their own rights and the promoters have been friends since the beginning.

On the 29th April 2006, Dave Logic and Enrico from Antiworld will be joining forces to bring together 7 years of experience, totally mind-blowing production and visuals and 2 crowds that like to do nothing other than get down and party and have a damn good time!

We managed to grab hold of them both for an extremely rare and exclusive interview in the build up to what is looking to be a sell-out event at the Fridge.

Here's what you guys wanted to know about 2 of clubland's most characteristic promoters...




Dave Logic



Hello guys, how you doing?

Enrico: I'm so super busy you wouldn't believe me if I told you!!! But I love my job so it's all cool really!

Dave: I'm tired, very tired… but I'm fine really so I'm happy. Hehe…

What have you been up to lately?

Enrico: I've just finished a big show at the Academy in Brixton and I'm looking forward to getting back to my favourite club ever, The Fridge. for Logic v. Antiworld.

Dave: As many on HarderFaster will already know, I've been taking it very easy of late. A year ago you would have repeatedly been able to find me in three or four clubs each weekend. I haven't lost any love for the scene but I've been clubbing for a VERY long time and it's nice to step back once in a while to get a clear picture of not only what's going on in your own life but also what direction the scene is moving in.




Enrico from Antiworld



Enrico, tell us how Antiworld progressed so quickly from being a smaller party to the epic events you now pull off at super-club sized venues such as The Carling Academy, Alexandra Palace and SE1?

Enrico: With a LOT of dedication from me and the Antiworld crew, our DJs, our flyer crew, production crew, and venue teams. We are also very grateful that our music selection has been so appreciated by so many people.

And Dave, how did Logic progress from a small (but brilliant) Saturday morning afterparty at G4 to the giant sensory indoor carnival it is today?

Dave: Kind words, possibly too kind. I've been asked this question dozens of times in the past both on HarderFaster and other sites and the answer always comes back to same few things. The people, the time and the ethos behind what you do. We were born out of the halcyon days of Escape from Samara and have always had a great level of support where ever we've gone. We love the scene and the people that support it and work extremely hard to meet our audience's perceptions.



What do you both hope to achieve by running an event together? What are you looking forward to seeing when Antiworld and Logic meet on the 29th April?

Enrico: I'm really looking forward to see the clubbers' reactions to Eskimo's live music and Proteus playing a psy trance set. It's really exciting to hear such a talented DJ as Proteus playing his interpretation of another sound!

Dave: Two simple but meaningful words – something different!

Just as Enrico has almost single handily pioneered the UK psychedelic trance scene, breaking grounds and taking risks that no other would, Logic similarly has always stood on the borders of the main stream hard dance scene constantly trying to push boundaries. It would be simple but pointless to run another Logic event in the tried and tested format of last year. Trying something new is very exciting and refreshing. I'm really looking forward to working with both Enrico and the Antiworld Crew on the night (I might even stay sober!)

You're both well known for the effort you put into your production at your parties, do does this mean we can expect double the craziness on the 29th April?

Enrico: Well that's a difficult one as both Logic and Antiworld have a similar ethos behind the production. Both parties always put on the best production they can, so it is very hard to make better what has already been done. We are surely on the case and having The Fridge to play with is very exciting, so you'll have to wait and see…

Dave: Like Enrico quite rightly says, both Antiworld and Logic share the same desire when it comes to making a party look good, sound good and feel good. In addition to Logic's Karma, Nuroptics and LAK:UK there will be Antiworld's production crew, Kwalilox and décor crews. Production is still being finalised as we speak, but as usual, it will be of a very high standard!



Dave, you've recently tried out a few different venues for Logic. Has it been difficult to find a venue that matches not only the atmosphere of The Fridge, but the passion of the old Fridge management and staff for making events special and unique?

Dave: The Fridge is very dear place to me. Many of my best clubbing memories stem from the mad times I've had there over the years but rest assured, if there were two parties that have proven that they can bring the roof down at the Fridge, it would be Antiworld and Logic. I'm sure the new management will work just as hard to ensure this event takes place in the way we have designed it to.

Enrico, being behind the indoor festival concept, which offered an unmatched diversity of genres and international artists, do you feel that dance music still needs a lot more open mindedness?

Enrico: The nature of the Antiworld indoor festivals has adapted to the way the music has changed. More and more of our clubbers are devoted to psy trance and less and less are enjoying the hard dance sounds. We loved the concept of the indoor festivals but it didn't seem right or logical having some rooms heaving and the other rooms quiet. It was time for a change and we followed what our clubbers were asking for.

Who are you looking forward to hearing/seeing play at Antiworld vs. Logic?

Enrico: All of them from start to finish.

Dave: Also very excited about the entire line-up, although I do always love to hear Shaf De Bass.



Are there any venues that you dream about throwing a party at?

Enrico: The Revenge @ Alexandra Palace!!!!

Dave: No!!!

What is your take on previously hard house producers now making psy trance?

Enrico: The need to follow the music and not worry about the formulated beat matching that so often happens with much of the hard house.

Dave, did you really go out with Betty Boo aka Alison Kier or were you on a wind up...?

Dave: Nobody "went out with each other" in those days but we did hang out as such. Before her fame as Betty Boo, Alison was one half of a female hip-hop act known as the Sherockers. I was a scratch DJ in a reasonably successful hip hop act known as Red Ninja. We all used to hang out in a club called Spatz in the early nineties —a sort of hip hop type of Club 414 in its time, if you know what I mean…

Thanks very much for your time guys and roll on Saturday 29th April!!!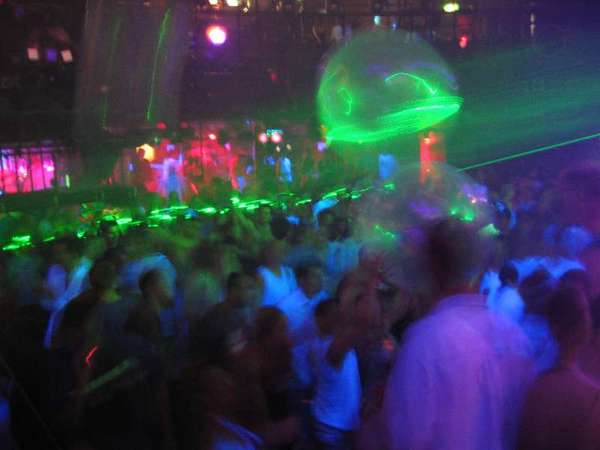 Photos courtesy of Daf and Matt. Not to be reproduced without permission.





Logic & Antiworld: Break the System Down

On:
Saturday 29th April 2006
At:
The Death Star
From:
22:00 - LATE
Website:
www.antidote909.com/news.cfm?id=56#56
Ticket Info:
PRIORITY WILL BE GIVEN TO TICKET HOLDERS!

Outlets:
Logic HQ [Brixton] 07960 750303, 07710 927694
Antiworld Box Office [London] 02083658918, 07793220710
NeverEnough Maria [Everywhere] 07813684399
Ticket Web [24 Hours] 08700600100
Cyberdog [Camden] 02074822842
Psychedelic Dream Temple [Camden] 02072678528
Farcyde Shop [Camden] 07933311772
Access All Areas [Camden] 02072678320
Kinetec Records [West End] 02073235303
Mad Records [Covent Garden] 02074390707
Silverback Records [West End] 0207404945
Absolute Tickets [West End] 02073794422
Illegal Records [Brighton] 01273623454
Buy Online:
Click here to buy tickets
More:
Come and witness true clubbing history as Antiworld and Logic meet for the very first time in 7 years under the same roof. Both parties, renowned for their state of the art production, sound and vibe will meet for an amazing 8 hours of Psychedelic trance, Hard Trance, Techno and Electro with exclusive techno set from Adam-LAB4 plus live appearences and stageshows from K90 and Eskimo. Be prepared to not only break all musical barriers, be prepared to BREAK THE SYSTEM DOWN !!

After sell-out collaborations with both Frantic and HeatUK over the past few years there was always one chapter missing from the Logic history book. - This is the next chapter. Logic are extremely excited about working with one of the scenes's most original, inspirational promotions and good friends from many moons ago - Antiworld

Prodution:

Amazing light and laser show, Computer generated FX, Video and audio visual interludes, amazing decor and visual enhancements throughout the night. More info coming soon...
Flyer:
-

Region:
London
Music:
Acid Trance. Hard Trance. Psy Trance. House. Funky House. Hard House. Funky Techno. Techno.
DJ's:
Main Room:
Eskimo - Live on stage - Psychedelic Hard Dance set !
K90 - Live on stage - K90s first appearence at Logic since 2003 !
Adam - Lab4 - Exclusive techno set
SHOKK - Switzerland - DJ Set
Ross vs Moon

2nd Room - Hosted by Never Enough:
Eduardo Herrera (Brazil)
Olav Hentrich (Germany) 2 hrs set- London Debut
Mike Redina (UK)
Alec Fasani (Brazil)
Laurian (Romania) Never Enough Debut
---
Share this ::

:

:

:


Follow HarderFaster ::

---
---
The views and opinions expressed in this review are strictly those of the author only for which HarderFaster will not be held responsible or liable.
---
Comments:
From: TEK-DJ Management on 12th Apr 2006 21:36.20
Fantastic interview!!

From: Maria on 13th Apr 2006 10:01.22
Logic & Antiworld...Wicked combination!

I'm proud to work with you guys!




From: Janie Mac on 13th Apr 2006 10:15.56
Wicked interview Shafster!

From: ~deleted5662 on 13th Apr 2006 11:38.01
I can't wait for this, its going to be so good!! I do like the way Shaf gets a pic of himself in there though



From: Dr DUZZIT on 13th Apr 2006 15:54.14
Logic Vs Antiworld, Christ what ever will they think of next? are you sure the venue is big enough for 2 of Londons Heavy weight contenders!!! dont miss this for anything and your be in for a treat if you do go. Dave hope this enough to get guest list



From: Dave_Logic on 13th Apr 2006 18:44.31
Why didn't I get a "cool" picture like Enrico.....possibly coz I'm not....


From: JAY B on 14th Apr 2006 13:55.25
I WANNA GO !!! MAMA WHERE ARE U ????

From: sexyjojo on 18th Apr 2006 15:04.46
awwwwwwwww dave you're cool in your own special way



From: ~deleted5181 on 19th Apr 2006 08:47.23
Hey Dave, Let me know if you ever need help with flyring ;p



From: freak-a-freak on 20th Apr 2006 17:19.08
Add your comments here ! U wanna ROCK ??!!?? hah, BIG WORDS, but CAN U ???HAHA..prove it on the 29th.. C all of ya on da' dancefloor!!!



From: sexyminx on 21st Apr 2006 13:21.47
Wicked interview
This is gonna rock. Logic i love you. Looking forward to my 1st ever Antiworld. See you on da dancefloor



From: Jam Gorilla on 21st Apr 2006 13:57.08
Just can't help noticing some historical inaccurancies being myself, independent et al.
also trying to give Nadya some deserved credit, innit?
but knowing meaning of very busy and dedicated dude will probably rush away to fix the world
it could be a riot if you publish on psy sites but it doesn't mean both of them wouldn't rock as always in so many years
be bangin

From: Jam Gorilla on 21st Apr 2006 13:59.42
something to remember is Dave being a hip hop scratcher
ahoy!

From: Centurian on 24th Apr 2006 09:57.02
The revenge at Ally Pally



Good interview Shaf, i see you never failed to get some shameless plugs in, haha, good work fella



Damn i'm missing some action.

From: Fi on 28th Apr 2006 08:47.54
I can't believe you didn't ask him about the marbles!!