Features

An interview with SOME1, a new alias of Psy-trance artist extraordinaire Mindwave
One Function talks to us about his biggest loves and his new album release 'Harmony'
Lyktum talks Consciousness, Call of Duty & Covid-19 and introduces us to his new album Mission 5D
Luke Thomas talks us through the twists and twines of his longstanding career in the music industry!
Talking Hardcore, Depeche Mode & Jimmy Sommerville (amongst other things) with Techno producer Chris Coles!
A candid chat with the illustrious Latex Zebra, ahead of his debut on Onhcet Republik!
Phutek talks the Rave Scene, Carl Cox, Marriage Proposals and the reincarnation of 'Reincarnations'!
NEM3SI$ from Techno Label Onhcet Republik talks about ethos, the scene & gives a heads up on a very exciting remix of a renowned classic anthem!
Exploring SUN! Ahead of her debut album release on Iono-Music!
Proxius - Lust In Space
Globetrotters Mind and Matter touch bass - ahead of their upcoming album release - 'Fragile Nature' - The Remixes - out 03/02/20 on Iono-Music!
Is This Your First Record? Khromata gets ready to make her UK debut at Tribal Village
Pixie Nature: from Brazil to Bristol with DM-Theory
Delving deeper into the energising, empowering and invigorating spirit of Shakti!
Mechanimal's Digital Nature album preview at London's Psymera Summer Boat Party
A chinwag with Psy-Sisters Competition Winner - Future Species - ahead of her debut release!
Tron talks festivals, flip flips and mezcal ahead of Tribal Village
Warming up for Tribal Village with Free-Spirit Records' Merlin's Apprentice
Celebrating 10 Years of Furthur Progressions Records with Hamish and Bedders at PRISM
Psychedelic Sister CORAL talks about how she found her trance dance pants!
Winston A Young aka MC K :: Remembering a Clubland Legend
Up close and personal with Rena Psibindi as she talks DJing, Psy-Sisters Record label launch and her new band - Psychic Misfire!
Cosmic Tone talks 'Resources' and divulges his colourful weird psyche!
Talking with Ital's 'Voice of Nature'
Fishing for Cats with Neutrino ahead of the launch of Progression Sessions
Ivan Pereira (Yestermorrow/Atomizers/Techyon/Boundless) and his Never Ending Quest!
Psychedelic Pan talks gatecrashing parties, weird decor & Goa Creamsicles!
Exploring the extra-terrestrial waves in the super sonic mind of Mindwave!
A Mindbending Conversation with Mindbenderz from Iono Music!
Manifesting the intention for Earthdance London 2018: interview with Amoriah Ka aka DJ Shakti
Innovate preview: Energy Dai gets set to release his explosive power in the UK

Reported by Nikki S / Submitted 30-08-06 19:42

Energy-Dai (translated) Big energy (life-size, huge, immense, enormous, massive, power, force, vivacity, dynamic, spirit, sparkle, enthusiasm) . . . and that is exactly what you get as soon as his hands touch the turntables!

It was at the young age of 17, as a young raver at hard NRG legend Yoji Biomehanika's early underground parties that Energy-Dai became inspired and first started DJing. At the age of 22 Dai began promoting his own events and through the years he has risen to the hold to crown of underground djs in Osaka by securing a residency at Club Joule, Osaka's most famous venue. Since then he has been one of the hottest and most in demand djs on the Japanese hard dance circuit.

Energy-Dai's sets deliver a 3 deck funked-up dynamite fusion of trance, high energy techno and a touch of harder house that always leaves clubbers begging for more. Having played alongside talents as varied as Signum, Anne Savage, Nick Sentience, BK, Captain Tinrib, the Sharp Boys and underground heroes like Ben Sims, Oliver Ho, Umek, Valentino, Trevor Rockliffe, Daz Saund and many more A-list djs during his residency in Osaka, Energy Dai has come to understand what makes a truly great dj and has set about making himself one.

His infectious energy and spell-binding performances behind the wheels of steel have made him an icon in his homeland and we are delighted to have him at Innovate in London on Saturday 16th September for a very special UK appearance. I caught up with Dai on the eve of his UK tour for a few quick questions.



Hi Dai, we are looking forward to your London set at Innovate at the Fridge on Saturday 16th September. It's been nearly 4 years since I last saw you play at the Fridge for Convergence, back at the peak of hard house. For those that don't know you, let's start at the beginning. Can you tell us where, when and how you got into djing?

I was inspired to dj from the 80s disco scence in Japan, and the body-kon culture of sexy girls, but when I heard the sound of German trance (like Generator) and techno my mind changed and I started djing at a high school party in 1996 when I djed for the first time! At the time I was playing hard trance.

What is your real name?

Daisuke Sakata a.k.a DJ Energy-Dai! Which means 'big energy' in Japanese.

Over the years you have played alongside some of the biggest djs in the world including Judge Jules, Mauro Picotto, Nick Sentience, BK, Yoji Biomahanika and Phil Reynolds. Which djs and producers have inspired you over the years and now?

I've always been inspired by many great djs! Especially Ben Sims and Eddie Halliwell, for his technical ability. I have also been inspired by Tinrib, Above and Beyond (as the Dirt Devils, Yoji Biomehanika, and the UK hard dance sound — like Trade, as well as the hardstyle sound of Holland and labels like Blutonium Boy's.



Can you describe the style you currently play and how it has changed since you first began djing?

I play uplifting and technical, tech trance and hard house. I have always played very high energy (hence the name!) and I have always played along the trance lines.

What is the dance scene in Japan like? Who are the local names that regularly rock the clubs there?

The hard house/hard dance scene in Japan is still small and growing. I started running parties there about 4 years ago and I import a lot of international talent. I run monthly parties at Velfarre with a capacity of 2,000. There are also many underground after-parties that play techno, trance and some hard dance and run all through out the weekend until the early hours of Monday.

The psy trance and techno scenes are very big and strong, with massive festivals set in the mountains such as Vision Quest having crowds of over 15,000 clubbers. Big name local djs that also regularly play big international gigs include myself, Tsyoshi Suzuki, Yoji Biomahanika and Taka.

You're known as the light of the Japanese hard dance scene by promoting the hard dance sound, consistently selling out venues and your spell binding sets. Can you tell us about the different parties that you put on back home?

I have been promoting Loaded at Velfarre in Tokyo for just over 3 years which has a capacity of over 2,000. It's Avex's superclub, and although a commercial disco in the daytime, for after hours it's transformed into a den of crazy after hours people — they also have great lasers, CO2 cannons and even a snow machine in the ceiling so it's a great party venue.

In Osaka I am resident at Club Joule and Club Rockets. We get around 1200 people in every month. All of the parties are going from strength to strength. Over the years I have toured the key players in hard dance to Japan including Nick Sentience, BK, Ed Real, Phil Reynolds, the Organ Doners, Eddie Halliwell and Judge Jules.

Do you get much of a chance to get in the studio and do any productions? I know of your 'Loaded' track with Mike Koglin. I'd imagine djing and promoting full time would be very time consuming. Are there any other tunes coming out soon from yourself?

I recently made a couple of tracks with Sam E Reeve that are more acid techno inspired. I hope they will be released in Japan soon through Avex.



Is it true that you utilize some scratching skills as well as three decks in your mixes?

I mix techno on three turntables and often include scratching and technical tricks. However when I play hard dance sets I am more aware about the performance aspect, making a seamless journey, starting somewhere and taking the dance floor with me to another level, to create a relationship with a crowd that some techno djs miss, keeping the energy levels high as well as the number of turntablez.

What can we look forward to seeing in your upcoming Innovate set?

I will be doing a 3 decks dj set at Innovate so watch me go mental! I will be blending a range of high energy tech-trance and hard dance. I get stuck into my mixing but also enjoy being a performer at the same time. I love London clubbers. They know how to party hard. It has been a while since I last played at the Fridge so I am looking forward to it. I have known Nick Sentience and Phil Reynolds for a long time so it will be fun to play alongside them on their home ground — they both get good energy too!

What has been your most memorable gig to date?

Dance Valley 2005 and touring South Africa!

What are some of the tunes you have been caning over the past months?

Criez D — Knockout Remixes (John Dahlback at Huggeland 2006)
??? — Direct Disko (Sander van Doorm RMX)
Marco Bailey — Dark Roast
Soul Sherling — Distek
TALLA 2XLL — Carry Me (Airbase Vocal Mix)



The last time I saw you play was at the Fridge for Convergence back in 2002 and you totally blew me away! I asked a couple of our UK hard dance legends that have toured with you recently for some feedback on your dj sets. Here's what they have to say . . .

"Energy Dai is one of Japan's most rocking DJs. He never fails to smash the dance floor" BK

"Last time I saw Energy Dai in Tokyo his ultra fast mixing and having it large tunes had me on the dance floor . . . and that doesn't happen very often these days!" Nick Sentience

How does it feel having such high praise from the scene's top artists?

It's fantastic! I have a lot of respect for them both as djs and producers. I hope the London clubbers enjoy my music just as much.

Thanks Dai for your time, see you on the dance floor!
N x

Photos by www.innovate.net, Energy Dai and Mainline Music. Not to be reproduced without permission.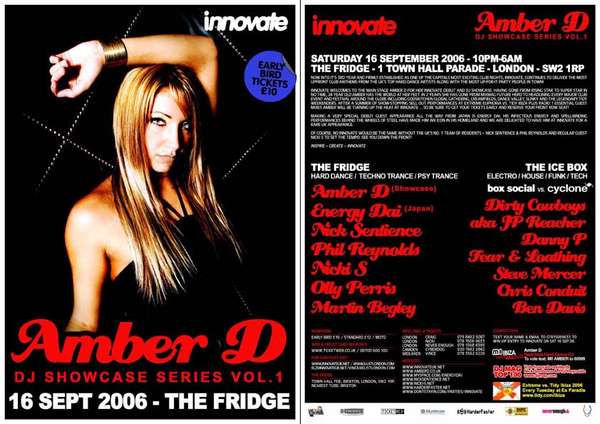 INNOVATE - Amber D Showcase!

On:
Saturday 16th September
At:
The Fridge [map]


From:
22:00 - 06:00
Cost:
£12 Advance tickets - MOTD
Website:
www.innovateuk.net
Ticket Info:
.
Web & Credit Card Bookings:
www.ticketweb.co.uk / 08700 600 100

For guest list email:
guestlist@innovateuk.net

Info Lines:
079 3298 2233 / 078 1506 9633
Buy Online:
Click here to buy tickets
More:
Now into it's 3rd year and firmly established as one of the capitals most exciting club nights, Innovate, continues to deliver the most upfront club anthems from the UK's top hard dance artists along with the most up-for-it party people in town!

Innovate welcomes to the main stage Amber D for her Innovate debut and DJ showcase. Having gone from rising star to super star in no time, 24 year old Amber has the world at her feet. In 2 years she has gone from Mixmag Future Hero to headlining every major club event and festival around the globe including Godskitchen Global Gathering, Creamfields, Dance Valley, Slinky and the legendary Tidy Weekenders. After a summer of show-stopping sell out performances at Extreme Euphoria vs. Tidy Ibiza plus Radio 1 Essential guest mixes Amber will be turning up the heat at Innovate … so be sure to get your tickets early and reserve your front row seat!

Making a very special debut guest appearance all the way from Japan is Energy Dai. His infectious energy and spell-binding performances behind the wheels of steel have made him an icon in his homeland and we are delighted to have him at Innovate for a rare UK appearance.

Of course, no Innovate would be the same without the UK's No. 1 team of residents – Nick Sentience & Phil Reynolds and regular guest Nicki S to set the tempo.

Inspire – Create – Innovate

Flyer:
-

Region:
London
Music:
Trance. Acid Trance. Hard Trance. Tech Trance. Psy Trance. Hi NRG. House. Funky House. Hard House. Tribal House. Funky Techno. Techno.
DJ's:
Main Room:
Amber D (Showcase Set)
Energy Dai (Loaded/Japan)
Nick Sentience
Phil Reynolds
Nikki S
Olly Perris
Martin Begley

Ice Box hosted by Box Social & Cyclone:
JP Reacher (aka Dirty Cowboys)
Danny P (Electro/Techno)
Fear and Loathing (Hard Funk/Hard House)
Steve Mercer (Electro/House)
Chris Conduit (House)
Ben Davis (Techno)


---
Share this ::

:

:

:


Follow HarderFaster ::

---
Other Features By Nikki S:
Mechanimal's Digital Nature album preview at London's Psymera Summer Boat Party
Let me hear you say Waio
Nikki S interviews Vini Vici ahead of their London debut at the Astral Circus presents Psy-Fi Festival London Launch party
Nikki S looks at making Babies, ahead of London Landscapes 2 at Ministry of Sound
Nikki S interviews Sinerider - one of the psy scene's fastest rising stars
---
The views and opinions expressed in this review are strictly those of the author only for which HarderFaster will not be held responsible or liable.
---
Comments:
From: danj on 30th Aug 2006 19:55.09
Fab interview Nicki



From: littlemissgenki on 31st Aug 2006 00:15.34
Definitely one of my top djs!

A favourite memory of my 3 years in Japan is my birthday at the opening of Joule, where I heard Energy-Dai play for the first time...



Wicked interview Nicki & Dai and can't wait to see you play @ Innovate!




From: Karl Alexander on 31st Aug 2006 10:10.14
great dj to watch at work. nice to see him back

From: Yojo - Cyberkitten on 31st Aug 2006 10:44.56
Top read



From: DMX on 1st Sep 2006 01:18.40
Always stole the show when I saw him at hard dance events. Good to see him back.



From: maliksta on 4th Sep 2006 13:29.29
Mr Dai. WOW I am stoked to catch up with you this weekend at innovate. I saw you play the 1st time at Fahrenhite back in the days! Last time I saw you at joule ya tore it up.
Bring on Saturday!
m

From: Maria on 4th Sep 2006 15:21.57
Always a pleasure to have Energy Dai around!
Looking forward to see you at Innovate! Very nice interview Nicki



From: anushka007 on 4th Sep 2006 16:01.50
I cannot wait for this :woohoohoo:

From: Anja on 6th Sep 2006 12:27.21
Saw him for the first time 2 mths ago and was well impressed played a fully varied set that had the crowd pumpin.
Quality DJ



From: lala on 11th Sep 2006 00:31.31
Great interview - made me even more excited at the prospect of having a stomp to DJ Energy-Dai the night before he plays at the Fridge when he plays @ Tranzaction down here in Cornwall on Friday 15th!



From: lala on 11th Sep 2006 00:35.28
Great interview - made me even more excited at the prospect of having a stomp to DJ Energy-Dai the night before he plays at the Fridge when he plays @ Tranzaction down here in Cornwall on Friday 15th!