Freestyling with Sander van Doorn

Reported by Adam Symbiosis / Submitted 16-05-07 16:40

I'm probably in the plushest boutique hotel in London enjoying a beer and waiting. I'm sure there are worse places to be spending a Friday night, where the beer might be warm and the seats somewhat harder, so I'm comfortable. In fact I'm also sure there are worse people to be waiting for as I was soon to discover. Dutch producer and DJ, Sander van Doorn has certainly made waves over the past few years and I was about to find out from the man himself about travelling, squash and British bands.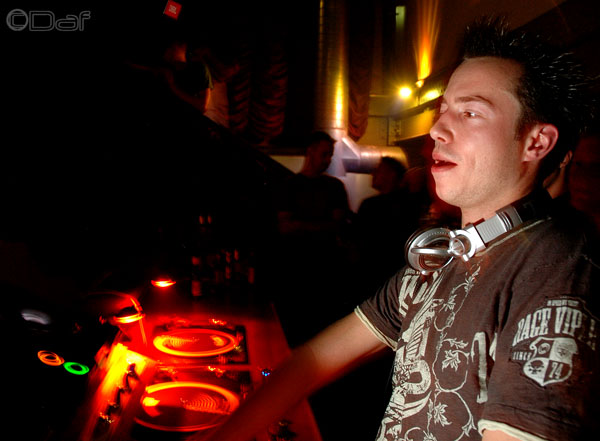 Jetting in from Eindhoven, the poor chap has spent more time on the road and in the air than he has at home. A sad fact for any superstar DJ. I wonder how he takes in all this flying and moving around from place to place? "To be honest there was a lot to get used to at first." Working for his brothers company with aluminium before knocking off his first productions, the producing turned into a 5 days a week job before he started to get more bookings as a DJ and it became a 7 days a week job! "Doing the gigs is just fantastic, but the hardest part to get used to is the travelling. Last week I went to London, to Amsterdam, then to some shows in Canada then back to London." We synchronise watches just to make sure he knows what time zone he's in before he goes off again for gigs quite literally all over the world. Maybe he needs to stay at home and try doing a Second Life gig, but with a top tip for coping with this gruelling diary of "Collect Frequent Flyer miles," I reckon he might just have this travelling lark down to a tee.

With this years Miami season just closed, some of you may have heard or even gone to one of his parties out by the beach. You might even have been lucky to have caught up with him at his meet and greet. "It was terrific," he enthuses, "You get a chance to sit down and really have a personal conversation with all the people that have come to see you. They can ask questions and really appreciate that you've taken the time to sit down with them. For me it's great to see these people come to a meet and greet." Bucking the trend of up their arse VIPs, I find his attitude refreshing. "I really like to interact with people. Most people are either producing or playing themselves or are just really enthusiastic and all have questions. It was the same for me when I went clubbing but I never got the chance to talk to DJs, which I thought was a shame." It goes both ways though he tells me as you lose some of the mystique of the DJ. The superstar DJ is dead, long live the DJ maybe? "It's changed these days; it's all more personal thanks to the internet. People can go on forums and they can respond directly to you. DJs are no longer on pedestals and I prefer it this way."

Sander's production career has featured some of the best tech trance to come out of Holland for some time but it took him a while to send out his first track and even then he wasn't sure. As a budding producer himself back in the day, he definitely felt he had some tips for someone just starting out on the road now. "If they feel that they are able to release a track then they still need to be very critical with themselves and the track. You don't want it to sound like the other 90% of tracks out there; you need to make your own sound. It took me three years to feel ready to send a track off to a label and that label had to ask me as well, not because I wanted to send it." Second opinions are vital; just don't ask your mum to rate your latest dancefloor destroyer. Objective comments are best. "You need some very good friends to tell you how it is."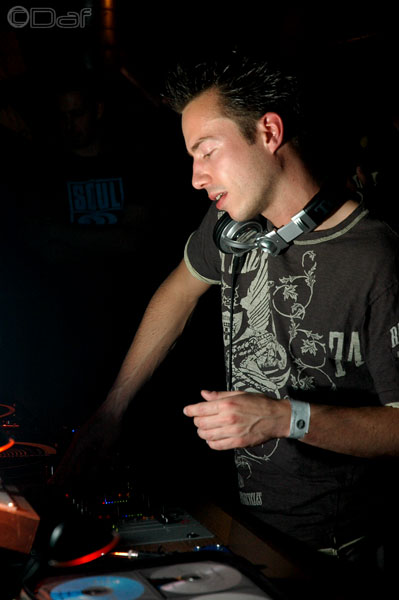 Of course now he's moved on from that stage of playing tracks to friends at school, you'll find older productions under not just the SvD name but also Purple Haze, Sandler and Sam Sharpe. "From the start of this year, we've decided just to use Sander van Doorn for my music. Before, I wanted to produce different styles of music, maybe a harder track or a softer track and I didn't want to put them all under the one name. People could expect a certain product or rather a certain type of music depending on the name. Now people know that the different names link to me and so I can put all of my music under the one name." Which really begged the question of why van Doorn? You may know that his real last name is Ketelaars and apparently the way most English people pronounce it sounds extremely close to the Dutch for clitoris and here's me thinking it was more like ketamine! "It's a tricky last name and far from trying to be anonymous it was just trying to make it easier. I asked a colleague at work for an easy Dutch name and they said van Doorn."

The van in the name and indeed the trance that they play on an international stage draws me to comparisons with the number 1 DJ, Paul van Dyk. "It's a typical Dutch thing to be honest, like van Buuren and thousands of other Dutch last names. In the Dutch language van flows really well, same as in German they have von." In a self-effacing manner he doesn't make direct comparisons other than maybe a love and drive for music, it's almost as if he thinks it's better to just respect other people while keeping his head down and just doing what he does best.

As one of the easiest going DJs I've yet met our conversation flows with ease. Smiles and laughs come naturally to this sociable Dutchman and it's great to feel like this is a conversation that can go on forever. Obviously we don't have all the time in the world, so I move on to find out more about if he's had a chance to connect with a DJ that he looked up to from the dancefloor. "When I turned 18 I went to a club called the Dance Saloon where Marco V was resident. From the minute I walked in there I was like what the fuck is this! Coming from hardcore to a groovier, house type thing, I thought this was the shit! From there I really started listing to Marco and appreciated how he moved over to more techy trance. I always admired him for his good quality music. I've now got great contact with him and we get on well. I can ask my questions to him and him to me. The same goes for Armin and Ferry. It's been real cool to be able to meet the guys and see that they're just normal people like everyone else. They've all been super friendly to me and have given me some great advice. Armin told me some great things about travelling, like don't travel too much, take days off."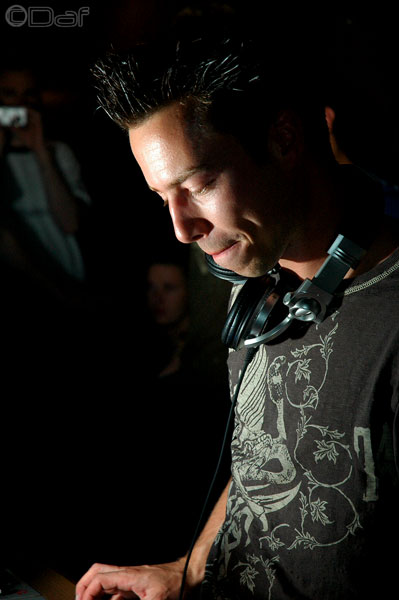 So where is the best place he's travelled to then? "I'd have to say the UK. I always looked at the UK as the county of Faithless, Prodigy, Underworld, Groove Armada. I looked up to these bands and they really made me want to come to the UK. I got the chance about 3 and a half years ago, when I played here for the first time. I had ideas that there was a more underground feeling here and it was true. From there I fell in love with the UK and have enjoyed playing here ever since."

With gigs around the world near enough every weekend, adapting and changing his sets for playing at different times and different crowds is important to Sander. He tell me he's really fussy with the music he plays and that proves a difficulty for him especially, as any DJ who downloads will attest to, when trawling through hundreds of tracks to find just one to play. This means though he finds playing completely different sets for each party nearly impossible. "You have to use a core of tracks, for example your own tracks and build your set around that. It's very important as a DJ though to never choose a set before you play. You need to play on the spot and just see what happens." With thoughts turning to the summer season now, I thought in might be of interest to find out how his music differs in other places and what someone who might see him out in Ibiza this year might expect. "The first set I ever played in Ibiza was at Privilege. When I arrived the first thing they told me was, by the way it's a house night tonight and you have to play for four hours! I was like what the hell is going on here. So yeah, you have to adapt to the crowd you are playing for but I have played a lot at Eden for Judgement Sundays and because of the British crowd there I don't have to differ my music as much." Of course you'll be able to sample the Balearic style for yourself at his next Judgement Sundays date at Heaven, but more on that later.




Producing in a studio built inside his brothers company building, the compact setup features a Mac along with a few synths like Virus but mostly some good software and some very good speakers. "A lot of people think they need very expensive equipment to make a certain sound. Usually they are already able to make it, they just don't know how; they just have to be versatile." With his new track, By Any Demand having struck huge success, I was interested to hear more about his upcoming projects. "We've now had the clearances for the sample, while the vocal had to be re-sung but we had the original MC do it so it's more or less the same. He also freestyled a lot and it's come along great. The track has done really well and we're all pleased with it. Along with that I've also made a remix of King Of My Castle. I've just taken a small bit of the vocal and made a completely new track out of it. Then there's another track to come later." Trying to elicit some more information about this new track proved near fruitless as all the concentration is currently going all into By Any Demand and King Of My Castle, all he could tell me was that it's going to be a typical SvD driven track so it's just watch this space!

Wrapping things up away from the music and travelling, I wanted to know just who Sander Ketelaars is. "I'm pretty lazy to be honest," he says with a laugh, "I watch a lot of movies, I like Quentin Tarantino, also British and Irish movies like Boondock Saints and Lock, Stock And Two Smoking Barrels. Everybody tells me I should find a sport I like. I played squash a few months ago and nearly dropped dead on the ground so I decided not to do that any more. Going from America to Canada, straight to the squash court, that's not good! No, I'm into my more relaxed things."

Adam Symbiosis



Photos courtesy of Daf and the Harderfaster Archive. Not to be reproduced without permission.





Judgement Sundays: London

On:
Sunday 27th May
At:
Heaven [map]


From:
10PM - 6AM
Cost:
Early Bird Tickets: £15 (+b.f.) Saver Tickets: £17 (+b.f.) Standard Tickets: £20 (+b.f.)
Website:
www.locknloadevents.com
Ticket Info:
24 Hour Credit Card Hotline: 08700 600 100
www.ticketweb.co.uk // www.viewtickets.co.uk

Club Tickets: 08717 110 010 (Buy 5 Get 1 Free)

Never Enough (cash sales): 07813 684 399
Cyberdog Camden (cash sales): 0207 482 2842

Buy Online:
Click here to buy tickets
More:
At last – London's trance fans finally get what they've been waiting for. One of Ibiza's most successful and exciting nights, Judgement Sundays, touches down in London for the very first time. Now in its 8th year, Judge Jules' trance, hard dance and house shindig steamrolls its way into London on Sunday 27th May for the mother of all Bank Holiday parties at the multi-arena Heaven nightclub.

Judgement Sundays has been San Antonio's most successful promotion for many years now, bringing the biggest names in trance and harder dance to the White Isle, along with some of the most exciting DJs from the world of house, electro and breaks in their supremely funky back room. From Lisa Lashes to Krafty Kuts, Eddie Halliwell to the Plump DJs, Christopher Lawrence to Matt Hardwick, their line-ups have always been about nothing but cutting-edge, uplifting party music.

This inaugural London bash builds on the Judgement Sundays theme, adding another 3 rooms of tough and sexy beats to the menu and dishing it all out in the legendary club space that is Heaven. In the main room, Judge Jules is joined by Marco V and Sander Van Doorn – 2 of Holland's finest, most innovative producers whose tough and unique productions are played by DJs throughout the house, electro, techno and trance scenes. No mean feat. Dogzilla mastermind Simon Patterson brings his classy, atmospheric sounds to the main room to complete a quartet of 4 of trance music's leading lights. Jules also plays a rare house set in Dusted's arena, along with London legends The Hoxton Whores - two of the most popular producers in house music today.

There's more top-draw entertainment in the other 3 arenas, courtesy of some of London's most exciting party people. Friendz bring euphoric trance to the table, with Fundamental serving up house, electro and breaks, and the burgeoning young team of Summit laying down some hard dance beats.

This is the official start of the Summer! Come and celebrate Judgement Sundays style before they kick of their huge Ibiza season…

Flyer:
---
Share this ::

:

:

:


Follow HarderFaster ::

---
Other Features By Adam Symbiosis:
Godskitchen Xmas Party: Reviewed
The Big Chill: Reviewed
Tiësto at Victoria Park: Reviewed
Lilly Allen: Reviewed
Digital Society May 2009: Reviewed
---
The views and opinions expressed in this review are strictly those of the author only for which HarderFaster will not be held responsible or liable.
---
Comments:
From: Matt Smallwood on 16th May 2007 16:57.59
An awesome DJ and producer who really is setting the standard in my opinion! This event will be amazing, Marco V and SVD in the same room, nooiice!!



From: Alan-Banks on 16th May 2007 16:59.49
I didn't know Paul van Dyk was Dutch - thought he was German .................

Think you may have it wrong there Adam



Nice read though



From: Martin Begley on 16th May 2007 17:09.45
This man smashes it!!!!!

From: Lee Osborne on 16th May 2007 18:37.21
SVD IN DA OUSE!




From: Adam Symbiosis on 16th May 2007 19:18.37
Well spotted Banksy, you win...

a wooden spoon!

From: James Terry on 17th May 2007 13:02.44
Upmost respect for this guy. If it weren't for people like him keeping the scene evolving then we'd be hearing the same old crap all the time.

From: Mizz_behavin on 17th May 2007 15:58.44
Quality DJ



From: ED_case on 17th May 2007 17:12.02
Even my nan knows PVD is German



From: K.A.R.L. on 17th May 2007 19:49.57
Best producer around at the moment imo.

From: Mike Harris on 18th May 2007 02:05.39
Been loving his stuff for time, he has put his own stamp on on the scene 'TECH' and i love it!

SVD and Marco V are the NUTS!



From: Kiko on 18th May 2007 18:48.02
Long live and

to the Dutch mafia: SVD, AVB, Marco V, Tiësto etc...

These guys know how to rock the dancefloor!!!



From: Disco Diva on 19th May 2007 13:48.03
Great read & wicked dj



From: ©harly on 23rd May 2007 13:42.26
Saw him play for the first time two weeks ago, his skills blew me away. He's got the whole package as a DJ, proud to be a Dutchman haha



From: sophs on 31st May 2007 16:41.41
Sander van Doorn has got it goin well at the mo - check Eddie Halliwells show on the mighty Radio 1 this evening as S van Doorn is taking over the show!... And then the world (or may be not)
Also, there's a load of info on www.hollandclubbing.com about the Dutch clubbing scene. well worth a scoop!