Maria
facebook.com/TooMuchMaria

Registered: Dec 2001
Posts: 3532 - Threads: 208
Location: London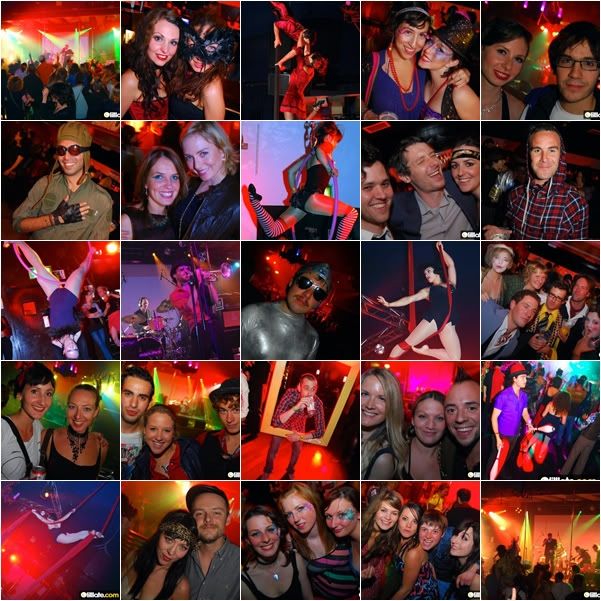 Fiesta Loca Events presents:

A fund-raising event for not for profit community interest company Art Saves Lives committed to finding space for any artist, writer or poet that feels that for whatever reason they are marginalised by society, to help them to find and share their voice.

The Naked Winter Festival

Naked is back! This time in an amazing warehouse with 5 arenas just round the corner from New Cross Gate tube station on the 29th January 2011 for the twenty-four hour Naked Winter Festival.

Crews and artists from the London underground scene uniting to play all styles in a spirit of freedom, creativity and self-expression.

Leave your preconceptions at the door. Latin, Techno, Funk, Punk, Pop, Trance, Dub, House, Psy Trance, Disco, Electro, Indie…

Tequila girls and Sambuca boys, chill out/cinema/cabaret lounge, karaoke silliness, hairstyling and make up bar, dressing up boutique, workshops, exhibitions, dance classes, café bar, stand-up comedians, burlesque performers, poetry, movies and spoken word, relaxed attitude, sexy and stylish, in a safe, clean, comfortable and friendly environment.



First 10 hours child and teenage friendly with activities for both parents and kids :-)

Dig your summer outfits out and come and have fun with us in the warmth of the Naked Winter Festival.

Our confirmed acts/crews/performances:

Malfaiteurs
Djs:
Aaron Liberator
Ciro
Birinight

Shindig Produtions
Djs:
DEAN YODA - Reggae Beats
CHRIS STEVENSON - Chilled Beats
NEW AGE TRAMP - Reggae Beats
ALEX DIG- Chilled Electro Swing

Psychedelic Circle
DJs:
Fordy - (Psychedelic Circle)
Vertex - (Synthesis Project)
Moonquake - (Hadra)
Insane Creatures (Indepeen.dance)
Decoration by Flying Piglets & Dancing Decor



Club Neurotica
Club Neurotica is proud to be a part of the first ever Naked Winter Festival, and will be taking over at midnight for an all-night feast of everything Club Neurotica does best. Since 1993 we have been unearthing the weirdest, wonderful and entertaining live acts we can find. Never ones to be defined by genres, we will shortly be announcing a line-up that includes cutting edge live bands, burlesque and can-can acts, fire shows and opera, live electronica and boundary defying DJ's. You can also expect original visuals and laser shows as well as a state-of-the-art Noise Control Audio Sound System. Come and join us for this nocturnal and enlightening experience.

GSM Collective
The GSM is an ever growing collective of musicians dedicated to reshaping the ethos of the music industry, and putting the power of creation back into the hands of the populace. Hosting multi-genre events nationwide our aim is to grow grass roots into the mainstream and crack apart the plastic of the dying music industry. The stage belongs to the people - Reclaim the Screen.

Revelation Gogo Broadcasting

LIVE PSINEMA
Video, cabaret, theatre lounge:
live poetry and spoken word, stand-up comedy, theatre, and burlesque, drug culture, sexual politics, spirituality, cosmology and the underground, art house, independent and activist film, free your mind and your ass will follow.

Urban Culture Club
The urban culture club is a group of creative people who express themselves through mediums typically found in inner city's such as graffiti, break dancing, DJing, rapping, stand up....
we aim to provide a space that during the day can be informative, fun and casual not aimed at any age specific group but designed to encourage people to try things they normally wouldn't have the opportunity to, whilst at night turns into a proper party space with DJs and live performers from the same crew. The idea being that if you put something in them you will get something out. All our acts are required to help during the day if they want to perform at night this helps us to create a community and support network for talented up and coming performers committed to our goal and give them a platform to show their talents.
DJs:
Eden Sirus kane (dubstep, garage)
Dj Del santo (Electro, breaks)
Cough drop (electro swing)
MakZILLA (Jungle)
Filed under K: (DNB, jungle)



LIVE

Alejandro Toledo and The Magic Tombolinos
Natema Electronic Live
MC Xander



DJs
D.A.V.E. The Drummer
The Loose Cannons
Cal Jader (Movimientos)
dj nod
Pattrix [ Mutate to Survive ]
Bfly
Julieta Blue (Naked)
Rosko John, Bastardized INC (Archive collective)
Syber Symon
kris (aka kristian/transient)
Rick Paredes
Colin James (Disco set)
Bahar Canca
Tongue and Groove
The Alchemist
Mojo Filter

EVERYTHING ELSE…



Mask Workshop by Tito Vega

Urban Culture Club DJ Workshops for kids and adults

Samba Class by Gladys Cavalgante

Pole Dancing Workshop by Fluorotrash

Ket-tek Art

Ninjaprints interactive boudoir photography TBC

Dressing Up Boutique by Lily Pixie & Co.

Latin Cafe and food by Shona Green Goddess

Alexander Hickman - Demonstration and talk on Inversion Therapy, breathing, healing and well-being.

Visuals by Dottintheshark

Mouseonthetelly VJ Collective

le giraffe by valeria sacenti
le giraffe no fashion no Stylist yes handmade

Rutlanfaire Stall and Tarot Readings by Josephine

Genie Korrigan & Susana Sanroman - Projected images portrait workshop for all ages.

Maia Desdunes Event Design and Decoration

Too Much Maria Social Media & Online Networking and Promotion



MORE TO BE ANNOUNCED!

Advanced Tickets are now on sale online from:

Access All Areas
http://www.onlinestall.com/cgi-bin/stall2.pl?act=ep&id=4204

Tickets can also be purchased in person from the office at Access All Areas, 2nd Floor, 30c Camden Lock Place London, NW1 8AL. Tel: +44 (0)20 7267 8320 & +44 (0)20 7267 6148
email: info@accessallareas.org
Opening Hours: Monday - Wednesday 12pm till 7pm Thursday-Saturday 12pm till 8pm

Zeta Tickets
https://www.zetatickets.co.uk/event/NAKED-WINTER-FESTIVAL
£13.5 all day/all night
£9 concessions with proof of unemployment/students
Kids free entry

£15 ON THE DOOR



Fiesta Loca Events presents:
The Naked Winter Festival
12pm Saturday 29 to 12pm Sunday 30th of January 2011
at The Hot Tap Theatre
http://www.hottaptheatre.com/
20-32 Goodwood Road, New Cross Gate, SE14 6BL, London, UK

P.S: If you want to participate in any shape or form we are open to new creative ideas, please get in touch with us info@thedamnsexyparty.com.

www.myspace.com/nkdparty
www.thedamnsexyparty.com
Info: 00 44 (0)773 851 0456

Check out the last events photos:
http://www.facebook.com/album.php?fbid=10150347757955004&id=503215003&aid=572280&notif_t=photo_album_comment

And some videos:
http://www.youtube.com/watch?v=K8lDRI1INzIhttp://www.youtube.com/watch?v=zl54Fy_vfVU

Add your name here at the event page please:
http://www.facebook.com/event.php?eid=147273725323525

It's always time to have fun!!!