Merry Christmas!

Reported by HarderFaster / Submitted 24-12-19 17:41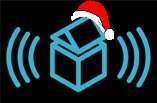 HarderFaster wishes everyone a Merry Christmas and a Happy New Year!

Eat, Drink and be Merry!
---
Share this ::

:

:

:


Follow HarderFaster ::

---
All trademarks and copyrights on this page are owned by their respective companies. All other content is (c) 2001-2023 HarderFaster.