[quote : unquote]

..I believe that banking institutions are more dangerous to our liberties than standing armies. ,
Thomas Jefferson (1743 - 1826)
LINK TO US
If you would like to link to us from your website you can find suitable icons here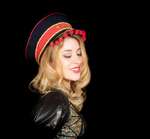 Written by Jessica Alici (12th September, 2023)

To say Miss C is multi-talented would be an understatement! Her impressive jam-packed career has seen her DJ, MC, promote, act and even dabble in comedy – and that's just for starters! It would almost be quicker to list the things that she hasn't done. Her talent and hard work have also brought her a residency at Mr.C's kick ass party Superfreq, and this Saturday sees the return of their extra special Superfreq Grande event! So what better time to have a chinwag? [FULL STORY]
Other Recent Features: [More Features]
Luke&Flex talk influences, the Irish rave scene, why Flex wears a mask and Play Hard, their new EP out now on Onhcet Repbulik Xtreme!
Lyktum expands on his new album 'Home' – talking about his love of storytelling, creating new harmonies and the concept behind his musical works.
Pan talks getting caught short crossing the Sahara, acid eyeballs and tells us Trance is the Answer, plus shares his thoughts on his latest release 'Beyond the Horizon' - all from a beach in Spain!
NEM3SI$ - I Live for the Night – talks superficiality, psychopaths, and bittersweet success, ahead of a plethora of evocative, emotional, and passionate upcoming melodic techno releases!
Psy-Sisters Spring Blast Off! We talk to DJ competition winner ROEN along with other super talents on the lineup!




Reported by News Editor (5th July, 2021)

London club Peach which relaunched with outstanding success in 2014 has bought the branding rights to the iconic London and Midlands club - Club UK!

Club UK will be relaunching a series of events in 2022 that recapture the hedonistic and epic days of Friday and Saturday nights in Wandsworth. It will be like stepping back into the past with much of the paraphernalia associated with the Pop Art Room. Of course, at Club UK it was all about the clubbers, the atmosphere, the music and the DJs. We have been in touch with all the residents and many of the regular guests, all of whom have given the venture huge thumps up, as have members of the Club UK Facebook group https://www.facebook.com/groups/6914147969 [FULL STORY]

[More News] - [Submit Your News]

HarderFaster Photosets
Members Photosets
CHAT FORUMS
Most recent topics - to see all the forums click here - to see today's active threads click here