[quote : unquote]

..If there are no stupid questions, then what kind of questions do stupid people ask? Do they get smart just in time to ask questions?,
Scott Adams
LINK TO US
If you would like to link to us from your website you can find suitable icons here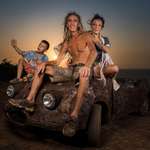 Written by Jessica Alici (13th December, 2021)

Nirmal is a Scottish Psy-Trance producer and DJ now residing in Goa! Having collaborated with some huge psy artists such as Tristan, JourneyOM, AJJA, Mad Maxx and Aphid Moon we thought an interview with this prolific party animal was well overdue! With his fresh EP 'High Tide' landing on December 24th on Free-Spirit Records now seemed like the perfect time to nab him, so we did! [FULL STORY]
Other Recent Features: [More Features]
DJ talk with Psyrenzo ahead of his debut set at Tribal Village, the Steelyard this Friday 14th January 2022!
TENZO aka Overdrive talks freely about launching his new act which will be showcased at Tribal Village, Steelyard on 14 January 2022!
A long overdue catch up with JourneyOM ahead of his next Tribal Village party this Friday 14th January 2022 at the Steelyard, London!
DJ Wired talks to us about the Rise of the Hope and parties, ahead of his upcoming set at Tribal Village on 14th January 2022!
Fast rising star Domek talks about 'A Changing Disaster', his remix of NEM3SI$ 'The Fourth Kind' and his mega popular podcast 'The Playground'!



HarderFaster Photosets
Members Photosets
CHAT FORUMS
Most recent topics - to see all the forums click here - to see today's active threads click here