Shuttlewood - Glynn Alan
A special tribute here on EL-EL. Glynn Alan, who has had tracks on Perfecto and a few other labels, surfaces on Lost Language with a tribute to a friend of his, a promoter, who passed away. This is Shuttlewood and it contains a remix from Starpicke... [Read More]


More Reviews:
Renaissance
A Raver's Diary
Apply The Breaks
[quote : unquote]

..Human beings, who are almost unique in having the ability to learn from the experience of others, are also remarkable for their apparent disinclination to do so.,
Douglas Adams.
LINK TO US
If you would like to link to us from your website you can find suitable icons here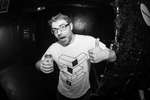 Written by Jessica Alici (18th May, 2020)

Latex Zebra has been a lively legend of the London Underground Dance Music scene for as long as we can remember! Most of us know him in some if not all his various guises, be that as a DJ, a Club Promoter, , linchpin of the HF Xmas Party, Label A&R, dare we say oldskool HF troublemaker, a friend, or as an accomplished producer in his own right. Recently Dan seems to have upped his production output and we're seeing fresh releases left, right and centre! We decided now was the perfect time to catch up with him and see what's what, ahead of his intoxicating mammoth release on Onhcet Republik on the 8th June 2020! [FULL STORY]
Other Recent Features: [More Features]
Talking Hardcore, Depeche Mode & Jimmy Sommerville (amongst other things) with Techno producer Chris Coles!
Phutek talks the Rave Scene, Carl Cox, Marriage Proposals and the reincarnation of 'Reincarnations'!
NEM3SI$ from Techno Label Onhcet Republik talks about ethos, the scene & gives a heads up on a very exciting remix of a renowned classic anthem!
Exploring SUN! Ahead of her debut album release on Iono-Music!
Proxius - Lust In Space




Reported by starkprofiles (15th June, 2019)

JES is thrilled to announce the worldwide release of her new single 'No One Else' through eminent Dutch dance imprint Magik Muzik, with remix production from New York outfit Disco Fries. Chasing on the heels of her Beatport Trance chart #1 'Imagination', 'No One Else' is the first new material to be released from JES's upcoming future-spective concept album, 'Memento'.

Be of no two minds, JES' song 'No One Else,' is a heartfelt express coming straight at your emotional Achilles. Combining reflective, introspective, and real moments with the kind of explosive highs only the greatest of relationships deliver, 'No One's the type of song you've either have lived through… or one day will. ?

At once fresh and familiar, the opening minutes of JES' delivery is studio-backlit by smokily brooding piano lines & infective vocoder. As its verses climb with aching beauty towards the chorus, Disco Fries' inventive production matches its intensity [FULL STORY]
Stuck for things to do during lockdown?
Merry Christmas!
FINAL CHANCE TO VOTE IN TOP 100 DJS 2019
Roger Shah - Magic Island Vol. 9
Daxson Delivers His 'Culture Shock'
Mark Sherry Talks 'Confirm Humanity'!
DT8 Project (Darren Tate) drops the third part of his EP series Leave It All Behind
Sneijder - Afterdark 002: Los Angeles
Markus Schulz Brings 'In Bloom 2019' To Spotify
Mark Sherry - Confirm Humanity - The Album
Giuseppe Ottaviani - 8K
Mark Sherry & Christina Novelli - Lighting Fires
Paul van Dyk & Alex M.O.R.P.H - SHINE Ibiza Anthem 2019

[More News] - [Submit Your News]

CHAT FORUMS
Most recent topics - to see all the forums click here - to see today's active threads click here